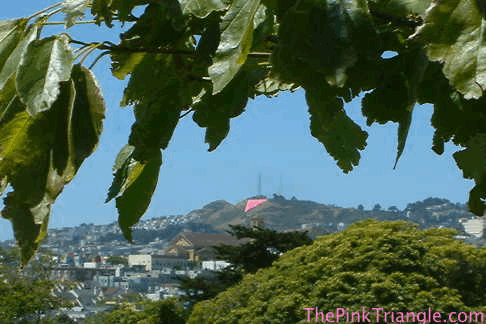 Each year, the Pink Triangle placed on Twin Peaks in San Francisco helps us remember how the Nazis used legal means to criminalize entire classes of people.  The Nazis passed a series of laws that made it first illegal for Jews to own property, then made it illegal for Jews to own businesses, then made it illegal for Jews to travel.  Eventually all Jews were incarcerated as criminals by legal means.  Like Jews, male homosexuals were criminalized and given a special symbol to wear.  Homosexual men wore the pink triangle to identify them as homosexual.  They were sent to Level 3 concentration camps and forced labor camps, where they were vulnerable to brutal medical experiments, castration, sterilization, special abuse by other inmates, and suffered a 50 percent higher death rate than political prisoners.  Unlike Jews, male homosexuals were not freed by the liberators of the concentration camps.  They were moved by the liberators from the concentration camps to German prisons. Remember Gay victims and do so that this will happen never again.
Fortunately, Germany has changed to become a champion of Gay Rights with legal same-sex civil unions and prominent gay political figures.  At the 2008 Pink Triangle ceremony, state Assemblyman Mark Leno pointed out that California's Proposition 8 slated for the October 2008 ballot would put discrimination against same-sex couples in the state constitution.
While the Pink Triangle remembrance had many somber, thoughtful moments, the christening of the Triangle with Champagne and the music of the San Francisco Lesbian/Gay Freedom Band took the event in a happier direction.  The Band played pep songs, showcased fabulous Band Twirler, Ed Boeke, and featured a special guest appearance by state Sen. Carole Migden as honorary twirler.  Mark Leno announced to the audience that the Band is celebrating its 30th Anniversary year and spoke of how the Freedom Band's musical service continues the vision of it's founder Jon Sims.  In his speech, San Francisco Supervisor Tom Ammiano described how he was an original member of another group founded by Jon Sims, the San Francisco Gay Men's Chorus whose first performance was on the steps of City Hall after the assassination of San Francisco Supervisor Harvey Milk and Mayor George Moscone.  The San Francisco Lesbian/Gay Freedom Band finished the event with a rousing performance of Wedding tunes.
Here's a short KRON video of the 2008 Pink Triangle dedication with some footage of the San Francisco Lesbian/Gay Freedom Band.  Check out the shots of Ed twirling, Danny playing trombone loudly in his silver hat, and more in this KPIX CBS5 news segment of the Pink Triangle dedication ceremony. The Band is mentioned in this SFGate article "S.F. Pink Triangle rite takes on festive tone" which includes some pictures of band members.  For more in-depth coverage, please view the "Outlook Video Coverage of Pink Triangle on Twin Peaks 2007" made by Raymond Donald Hong.  The San Francisco Sentinel article "THE PINK TRIANGLE CHRISTENED ATOP SAN FRANCISCO TWIN PEAKS" features the Band in this photo by Official Pride Photographer Bill Wilson © 2008: