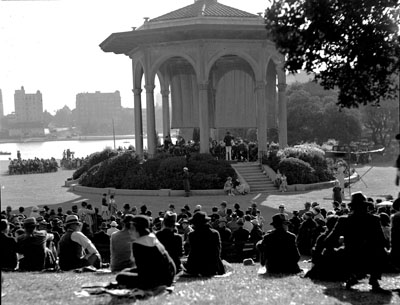 The San Francisco Lesbian/Gay Freedom Band performs We Are Family, a concert for kids of all ages and families of all shapes at the bandstand overlooking Lake Merritt in Oakland. Conducted by Artistic Director Jadine Louie, the program showcases music from video games, movies, cartoons, children's musicals and circus marches, as well as traditional band standards written for and about children. The concert program includes "Video Games Live Part I" by Marty O'Donnell, "Selections from Annie," "Music from the Incredibles," "Circusdom March" and Percy Grainger's "Children's March." Concert starts 3 pm, Sunday, June 12 at the Edoff Memorial Bandstand, adjacent to Children's Fairyland near Bellevue Avenue. Info: 415.255.1355; www.sflgfb.org. Wheelchair accessible. Admission free.
"Finding music children respond to is one of my favorite challenges," says Louie, who has been a mastermind behind the Band's popular Dance-Along Nutcracker® productions for more than a decade. "This program literally plays with our notions of where you find concert music. 'Video Games Live – Part One' collects music from the video games Halo, Civilization IV and Kingdom Hearts in a suite just like Holst did with folksongs a hundred years ago."
A classic summer concert in the park, We Are Family marks the first formal concert the Freedom Band has performed in Oakland in more than a decade. While the Band performs regularly at pep events like the Oakland Marathon and the reopening of the California Museum, the Band's last formal concert in the East Bay was in 1997. The Edoff Memorial Bandstand overlooks Lake Merritt near Bellevue Avenue. Located inside Oakland's Lakeside Park, the bandstand is surrounded by a grassy lawn and sits a short walk from Children's Fairyland, the Japanese Gardens, the Lake Merritt Boating Center and the Junior Center of Arts and Science.
"It's always great to perform beyond the San Francisco city limits and reach new audience members with our music," says Louie. "We have San Francisco in our name, but truly, today our musicians come from all over the Bay Area. Many are from the East Bay and some from as far away as Mountain View, San Jose and Crockett."